Equip your team with the right data
to sell, service, and market.
Salesforce Integration
Equip your team with the right data to sell, service, and market.

Image courtesy of https://brandfolder.com/salesforce
The fastest way to integrate Salesforce with Dynamics GP, Dynamics NAV, Xero, and more.
Unlock your back-office to connect data from your applications, e-commerce, and accounting.
Easily sync data from external applications with any of the standard and custom objects and metadata in Salesforce.
Design and make changes easily with SmartConnect's intuitive UI and management console.
Two-way integration built for Salesforce.
Integrate to and from any of your Salesforce data and respect the business logic of your system.
Integrations when you need them: automated on a schedule, real-time, or manually.
Transform your data in the way that Salesforce needs.
Ability to manually edit Salesforce SOQL sources.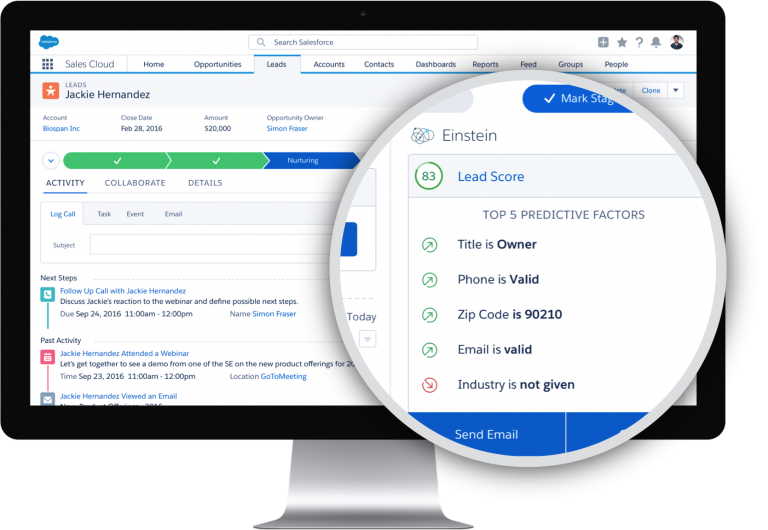 Image courtesy of https://brandfolder.com/salesforce

VIEW TEMPLATES


VIEW ALL CONNECTORS

Securely connect Salesforce with all your business apps.
Dynamics NAV
Zendesk
Web Services
Excel
Dynamics GP
Dynamics 365
Bring integrations to market faster.
Configure your integrations and easily make changes within your integration setup.
Easily view and fix errors.
Handle complex transformations without a headache – access a full library of functions, translation tables, dates, 'that next number', alternate keys, SQL lookups, and scripting.
No-code, scalable and configurable integration.

CHAT WITH US NOW


WATCH THE 4 MINUTE VIDEO


SEE A DEMO

SALESFORCE TECHNICAL HIGHLIGHTS
SALESFORCE TECHNICAL HIGHLIGHTS
Read data with the Salesforce Query Builder from all the standard and custom entity data in Salesforce. (Yes, you can integrate with your customizations!).
Create, update, and delete when writing back to Salesforce.com.
Support for scheduled (changes only and bulk), manual, and real-time triggers.
Easily specify primary and alternate keys.
Simplified built-in transformations and wizard-based functions to handle entity lookups, translations, dates, calculations, and that next number.
Support for Sales Cloud Lightning.
How much does the Salesforce Connector cost?
The Salesforce connector is included with the cost of SmartConnect. Simply purchase SmartConnect and integrate Salesforce with any available connections. Integration templates, test licenses, and access for unlimited users are also included. No hidden fees.